5 reasons to choose to paraglide with Verbier-Summits
1 – Highest teaching standards worldwide.
We are an FSVL and OFAC approved and accredited paragliding school: Being based in Switzerland necessitates that we are governed by the Swiss Civil Aviation Authorities which means that as a paragliding school we are regulated with the strictest and highest standards of teaching in the World. This also enables us to offer British BHPA courses and qualifications which are recognised worldwide as well as FSVL courses for Swiss residents who are required to have a Swiss licence to fly in Switzerland.
2 – Only BHPA school in the world to be governed by OFAC.
Only BHPA school in the world to be governed by OFAC, the Swiss Civil Aviation Authorities. This means that your Chief Flying Instructor is not only a BHPA Senior Instructor but also a Swiss OFAC and FSVL Instructor.  We are also one of the few BHPA paragliding schools based on mainland Europe which means that not only do we have another strict governing body's rules to abide by, but it also means that we can certify pilots with a BHPA paragliding licence. For people wishing to learn to paraglide this is great news as it is the fastest and simplest way to get certified. However unlike any other BHPA school in the world, we are the only one who is also regulated by OFAC as well. For us this means more regulations but for you means maximum safety measures have been put in place.
3 – Get qualified in two weeks.
Many of our students are people who have tried to learn in other countries but have been unable to finish their course due to weather. We are very lucky and although we are in the big mountains we are blessed with a micro climate that allows Verbier to boast 300 flyable days a year. Completing a course depends on weather and individual progress of course, however, it is very rare that our students are not able to complete their course within two weeks.
4 – Value for money.
Value for money. We don't pretend to be the cheapest, nor do we try to be. We aim to be the BEST! But at great value. With sports like paragliding we do not believe in cutting corners. We hire the best guides and instructors, we use high quality equipment and our accommodation is first class. Also don't forget that all transport including cable car passes is included in our fly-guide and course packages.
5 – Climate and terrain.
Verbier enjoys a wonderful micro-climate with hot and beautiful summers. National statistics show 300 flyable days in Verbier per year! There are few places where it is consistently possible to complete a beginner to Club pilot course in two weeks. Oh, and did I mention that this is one of the most un-crowded flying sites in Europe!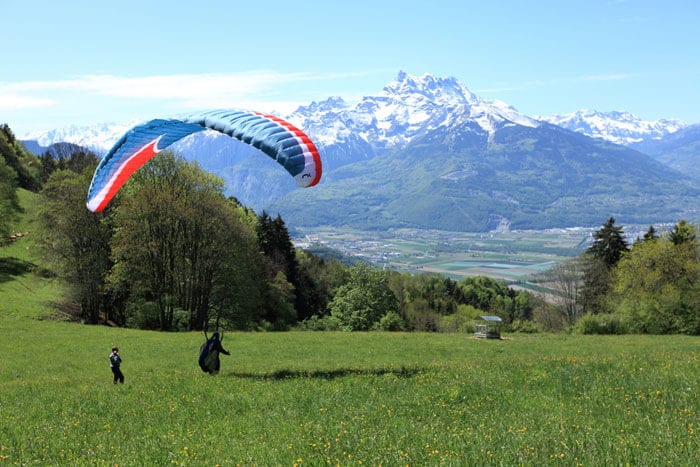 Thank you Stu for making me feel safe, maybe next time I can cook for you!